Quad City Animal Welfare Center Membership Program
As a non-profit animal shelter, we rely on donations from our supporters. Each year, approximately over 1000 animals are adopted from the QCAWC and over 3,500 animals and families benefit from our low cost wellness clinic. We offer individual, family, student, volunteer, and corporate memberships.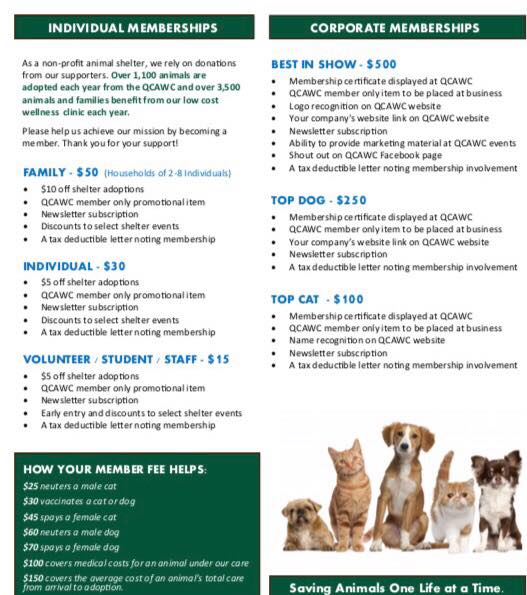 There are two convenient ways to become a member:
1. A PRINTABLE FORM THAT IS MAILED DIRECTLY TO THE SHELTER: - Print this form and mail it to us along with your payment to: 724 W. 2nd Avenue Milan, IL 61265
OR
2. MAKING A DIRECT PAYMENT THROUGH PAYPAL ONLINE: Complete the form below and make your payment online through PayPal. WHEN SUBMITTING YOUR MEMBERSHIP ONLINE THIS IS A THREE PART PROCESS.
YOU MUST COMPLETE THE FORM BELOW IN ORDER FOR US TO RECEIVE YOUR INFORMATION
CHOOSE YOUR MEMBERSHIP TYPE
SUBMIT YOUR PAYMENT THROUGH PAYPAL
2019 Corporate Members
Best of Show
Top Dog
Top Cat
Moline Welding Inc.
Illinois Casualty Company
Crafted QC
Alex Brandtner Children's Dentsitry
Midwest Complete Construction